Donations
Online Donations
If you would like to donate online to Pioneer Acres, you can do so through CanadaHelps. This is an organization that accepts donations on behalf of charities and forwards the received funds. Just click on the image below which will take you to the CanadaHelps website where you can use a credit card for your donation. Tax receipts are issued directly by CanadaHelps for donations made through them.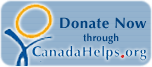 Other Cash Donations
Of course, you can still donate the old-fashioned way by writing a cheque and mailing it in or (even better) visiting us and delivering your donation personally. Pioneer Acres will automatically issue tax receipts for donations of $50 or more. If you would like a receipt for a smaller donation, please ask and we will be happy to provide one.
Please keep in mind that donations of time and talents are required just as much as cash! Volunteers are always needed.