Where History Comes Alive
Pioneer World
When you arrive at Pioneer Acres, the first building you will see is Pioneer World. This 6,000 square foot building is home to a half-dozen dioramas showcasing the family life of our early settlers. Among the scenes you can take in are a fully equipped kitchen, a music room, and well-stocked General Store.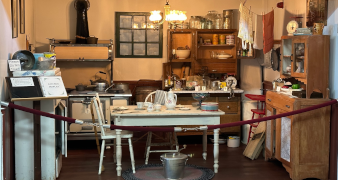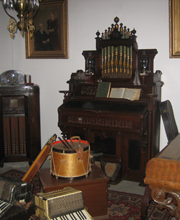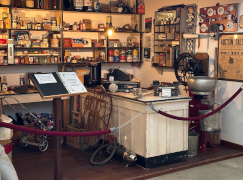 The main area of Pioneer World contains hundreds of settler artifacts. We have cabinets full of such items as toys, china, radios, cameras, small clothing, typewriters, washing machines, and many others too numerous to mention. These exhibits are regularly rotated with artifacts from our storage area to ensure that our repeat visitors see something different occasionally. The back wall is home to a huge mural of a farm scene that is a work in progress so each time you come in, there could be something new added.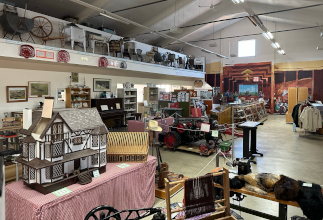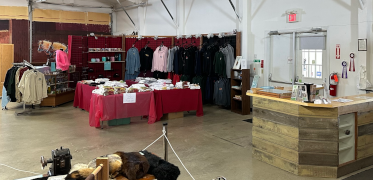 An exhibit not to be missed is our "What's It?" board. This is a pegboard wall that contains about 100 artifacts that are not labeled - you have to figure out what they are. Of course, we provide the answer sheet, but you can spend some time with your friends trying to guess what the more obscure objects were used for.
In addition to artifacts, this building is where our admissions desk, main washrooms, and gift shop are located. Browse through the gift shop to find that perfect souvenir to remember your visit to Pioneer Acres.