Where History Comes Alive
Granlea Beef Ring
Hands up - how many of you know what a beef ring is? (We'll assume that not many hands went up.)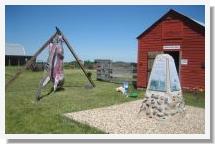 In Southern Alberta in the early 1900's there was no electricity and therefore no refrigeration. With no refrigeration, butchering one animal yielded more meat than one family could consume before it spoiled. Some people worked on the art of canning meat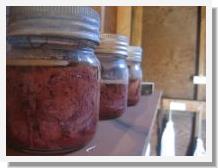 , but the grey stuff that came out of the jar was nothing like fresh beef. To get around this, a number of families would get together and form what became known as a beef ring.
Each week, one of the families would supply one animal to the ring. This animal was butchered and divided into manageable portions equally among the ring members. Each family then would be able to consume their portion of meat before it went bad. The next week, a different family would supply the animal. This continued around the group until it was the orginal family's turn to start the whole round again, thus forming a "ring".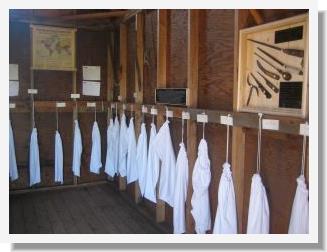 Our exhibit at Pioneer Acres features one such ring formed in the mid 1920's by the families around the locality of Granlea, in southeastern Alberta. We have a tripod just like the one that was used in Granlea to hang the beef from when being butchered and we have a model of the beef as it would have looked at butchering time. No, the hanging beef in our exhibit is not real but it sure makes people do a double take when they first notice it! The butchery is outfitted with sacks hung around the room and butcher table in the middle, to give the feeling of actually being taken back in time when you're in there. We also have real jars of canned meat so you can see for yourself why people were willing to go to such lengths for fresh beef. The signage on the cairn and inside the butchery provide lots more detail, including listing the names of all of the Granlea families involved.